Adaptation and application of the NaDemO software for the evaluation deposits, operational landfills, and enclosed landfill sites
Landfills generally need to be managed far the beyond the operational period. This so-called aftercare period depends on various factors (e.g., landfill technology, landfill barriers, type of waste landfilled, climatic conditions, geology at the site, landfill operation, …). VIRWa staff recently developed, together with the Bundesaltlastensanierungs GmbH (BALSA GmbH) and the University of Kassel, the software NaDemo, which assesses the aftercare period of closed landfills containing municipal solid waste (MSW). In addition, the software enables the user to evaluate the associated costs of aftercare.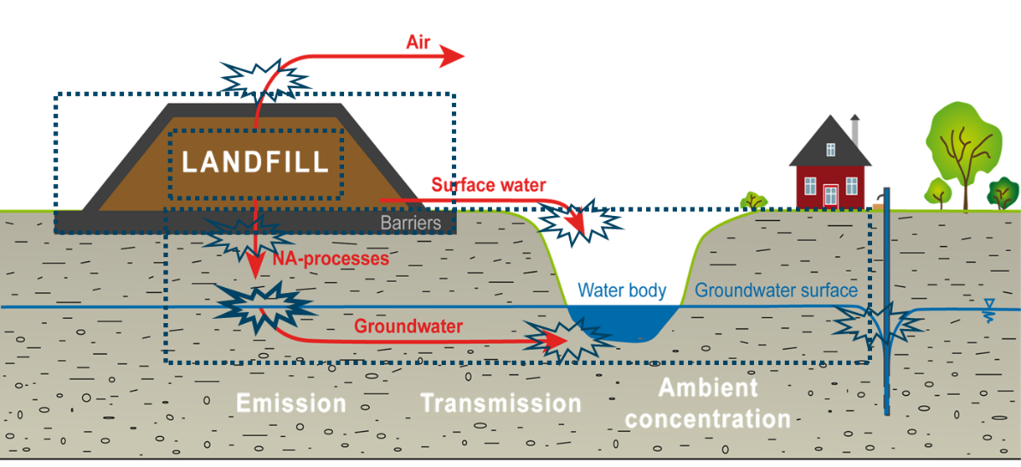 In the frame of the present research project, the developed software will be adapted in order to predict the duration and costs of aftercare measures for both operational landfills and for old waste disposal sites ("Altablagerungen"). Special focus will be given to waste disposal sites equipped with vertical sealing walls. At present, it is not possible to predict for how long these sites need to be separated from the surrounding groundwater in order to avoid unacceptable emissions into the environment.
Emphasis will be made on the wide applicability of the tool and the user interface. After successful development/adaptation of the tool, it will be applied to different case study landfills and old waste disposal sites to test its effectiveness.
At the end of the project, a training on the software for landfill operators, authorities and consultants will be carried out.
Partners & Funding
Funding organization: Federal Ministry for Climate Action, Environment, Energy, Mobility, Innovation and Technology (BMK)
Partners: BALSA GmbH, Umweltbundesamt
Links
https://www.bmk.gv.at/
https://www.umweltbundesamt.at/
https://www.balsa-gmbh.at/